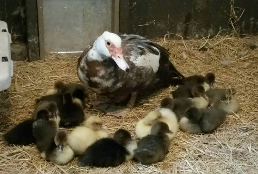 Nestled in the hills of Santa Cruz, HexenWald Ranch is our sanctuary away from the hectic life in the city. Having grown up in the country, we wanted the same carefree country life for our grandchildren. Since we moved here in 2013, we have been slowly expanding our farming operation. Starting with two chickens brought with us from our suburban southern California backyard, we expanded to turkeys, ducks, rabbits, bees, goats and finally, sheep. We grow much of our own food and have a wonderful little orchard started. Below are other members of our family:
Muscovy are my favorite duck. Native to Mexico, Central, and South America. Small wild and feral breeding populations have established themselves in the United States. Muscovy are excellent mothers, prolific layers and their meat is the best kept secret in the culinary world. The most important role they play on the farm however is fly control!
Frecka is a New Orleans stray that wandered into my daughter's apartment and decided to stay. When my daughter completed law school, she brought Frecka back with her.
Of course we keep bees! After several years of populating the surrounding forest with bees that have swarmed from my hive, I figured out how to split my hive and now have two. Whenever I plant something new, my choice is always dependent on whether the bees will like it.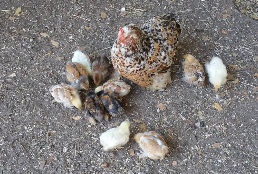 COCHIN AND BRAHMA BANTAM CHICKENS
Cochin and Brahma hens are very gentle and wonderful mothers. Aside from mothering their own chicks, they are mothers to the turkeys and sometimes to the ducklings. They have cute feathered feet too!
MIDGET WHITE AND BOURBON RED TURKEYS
The Midget White turkey was created in the early 1960s by Dr. J. Robert Smyth at the University of Massachusetts. The Bourbon Red turkey is named for Bourbon County in Kentucky's Bluegrass region where it originated in the late 1800s. It was developed by J. F. Barbee from crosses between Buff, Bronze, and White Holland turkeys. Midget White and Bourbon Red Turkeys consistently win taste tests.
Originally from the African Continent, Guineafowl mate for life! However they are crappy mothers, so our chickens are usually tasked with the job of raising the little ones. They are great for alerting the rest of our flock to danger and but can be very loud. They are bug eaters beyond compare... especially ticks!