Aslan and Leyla are our purebred, working, UKC registered, livestock guardian KANGAL dogs. The "Wolf Fighting Dogs of Turkey" protect us and our livestock from mountian lions, coyotes, bobcat and the other creatures of the wilderness. The majestic KANGAL dogs make a restful life in the hills possible.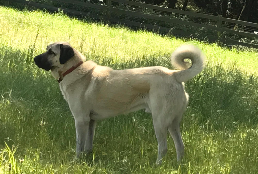 These little guys are Pastel Call Ducks. The cutest little ducks you have ever seen. We keep them in the garden to keep the snails under control but we often find them wandering around the house since they think they are cats.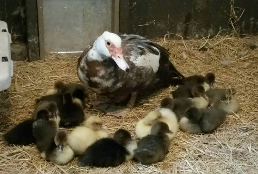 Nestled in the hills of Santa Cruz, HexenWald Ranch is our sanctuary away from the hectic life in the city. Having grown up in the country, we wanted the same carefree country life for our grandchildren. Since we moved here in 2013, we have been slowly expanding our farming operation. Starting with two chickens brought with us from our suburban southern California backyard, we expanded to turkeys, ducks, rabbits, bees, goats and finally, sheep. We grow much of our own food and have a wonderful little orchard started. Below are other members of our family:
Muscovy are my favorite duck. Native to Mexico, Central, and South America. Small wild and feral breeding populations have established themselves in the United States. They are large ducks, with the males weighing around 15 lb and females weighing 7 lb. I purchased a trio at a street fair in Capitola. Muscovy are excellent mothers, prolific layers and their meat is the best kept secret in the culinary world.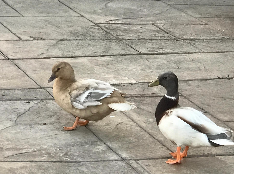 Frecka is a New Orleans stray that wandered into my daughter's apartment and decided to stay. When my daughter completed law school, she brought Frecka back with her.
Of course we keep bees! After several years of populating the surrounding forest with bees that have swarmed from my hive, I figured out how to split my hive and now have two. Whenever I plant something new, my choice is always dependent on whether the bees will like it.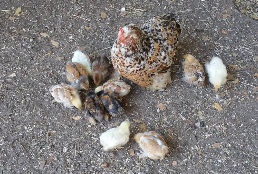 COCHIN AND BRAHMA BANTAM CHICKENS
Cochin and Brahma hens are very gentle and wonderful mothers. Aside from mothering their own chicks, they are mothers to the Midget White Turkeys and sometimes to the ducklings. They have cute feathered feet too!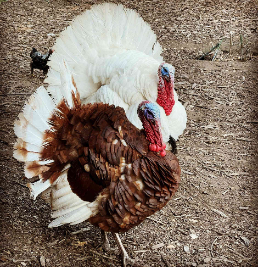 The Midget White turkey was created in the early 1960s by Dr. J. Robert Smyth at the University of Massachusetts. It was developed to meet an anticipated demand for a small version of the broad breasted turkey for the homesteader. Midget White Turkeys consistently win taste tests.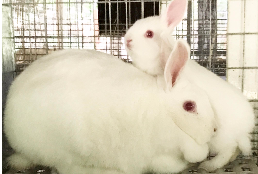 Known as an ?all-purpose? rabbit, the Florida White is a little white bunny that can serve across different purposes. Its small size makes deal for the homesteader.